River Bend Golf Club, located just 20 miles from downtown San Antonio, provides the ultimate golf experience for all levels of the sport. The front nine holes, a true links-style challenge, boasts wide fairways and huge receptive greens! The five different teeing areas on every hole allows the golfer to choose the degree of difficulty for his/her particular round. The back nine elevation changes, with strategically placed Live Oak trees, make the entire experience both scenic and enjoyable.  All of this, combined with the laid-back small-town atmosphere (not to mention a full practice facility with an aquatic driving range) will make for a truly unique golf outing!
Exciting News!
The sandtraps at River Bend are being completely renovated by a professional golf course construction company with the work to begin the middle of September with NO disruption in play. This process will take approximately 30 days to complete. Again, we appreciate your patronage and hope for your continued support in this endeavor.
Greens: Champions Bermuda
Fairways: 419 Bermuda
Course Type: Semi-private
Dress Code: Casual Golf Attire (No Cutoff Shirts, No Muscle Shirts, No Boots)
Season: Open all year – 7 days a week
USGA RULES GOVERN ALL PLAY
Please observe 90° rule year round, no exceptions.
OUT OF BOUNDS: Fence surrounding golf course is out of bounds and white stakes on holes 5, 6, 7, 9 & 10. Road to right on hole 15 is out of bounds as well as white stakes on hole 18 (left of the road on this hole is not out of bounds).
WATER HAZARDS: Drop ball behind point of entry – penalty one stroke. All native grass is played as a hazard. Do not ground your club and you cannot move loose impediments. If ball is not found, drop at point of entry no closer to hole and take a 1 stroke penalty.
OBSTRUCTIONS: Sheds, sprinkler heads, hoses, markers, benches, bridges, ball washers, casual water or mud-free drop.
MODIFIED LOCAL RULES
If your ball comes to rest in or near a non-human creature, you are entitled to nearest relief, no closer to the hole.
Please do not attempt to retrieve your ball from dangerous areas.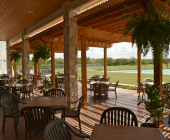 ---